In August, our team attended the Oklahoma CIO Symposium in Tulsa, OK, a yearly event put together by Information Systems Leadership of Oklahoma (ISLOK) and Tulsa CIO Forum to offer Oklahoma IT leaders a chance to get together and learn from each other's successes and mistakes.
It was a big honor to be asked to sponsor the CIO Symposium and we were happy to join a small collection of Oklahoma companies who shared the bill with big names in IT such as Oracle, Hitachi, and Adobe.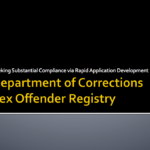 We were equally delighted to be able to co-present a success story with one of our clients, the Oklahoma Department of Corrections. The presentation (available here) covered our use of rapid application development and Oracle's APEX solution to rescue the Department of Corrections' Sex Offender Registry from costly non-compliance penalties.
It was a rewarding experience and we were happy to share what we learned during the process with the audience.
This year's Symposium was larger that last year's, with more attendees present and sessions available. The opening keynote, presented by Robert Tipton, was a great message about managing change, something all IT organizations struggle with.
Other sessions were split between deep-dive technical presentations and higher-level management advice. Overall, it was a good mix and those in attendance seemed engaged and happy to be there.
The vendor tables were active and the tone of both vendors and attendees was more energetic than it's been in the past, possibly due to an improving economy. It was exciting to meet Oklahoma's IT leadership as well as our peers on the vendor side.
If you're a CIO, CTO, IT Manager, or just someone interested in pushing Oklahoma's enterprise IT forward, we'd strongly recommend attending next year's CIO Symposium. It's a great opportunity to learn, network, and share what you know about the IT challenges unique to Oklahoma.