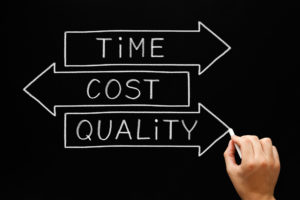 Routine I.T. fixes are usually quick, whether it be at the software, middleware or database level. Experienced I.T. professional service providers have a track record and method for resolving some of the most common problems.
However, sometimes despite everyone's best efforts, the perceived simple solution becomes a time-consuming fix. This is nerve-wracking for the I.T. professional, and frustrating for the client. Extra time required can cause business delays and create additional cost.
After years of working on I.T. issues both big and small, we can give a general idea for how long it will take to resolve common problems. But about 10% of the time, despite our experience and best efforts, the resolution takes longer than we anticipate. In our profession, we refer to this as the 10% factor, which every I.T. professional encounters.
Here are some things we do to prepare for this situation.
Communicate
When speaking with a client about their I.T. problem, we clearly communicate the possibility of the 10% factor up front. We let them know that while our goal is to resolve their problem in the estimated time period, sometimes issues take longer.  We also know that our professionals have an extreme desire to solve the issue which we openly recognize as the catch-22 in managing expectations.
This conversation allows us to discuss appropriate expectations. We believe this is the first step in transparent, honest service to our clients.
Plan
Once appropriate expectations are set, we create a plan. This plan will include what the client desires if we encounter issues that will extend the time we originally estimated regarding the problem.
Some clients tell us to keep working on the issue until it is resolved. Other clients want to be notified immediately of any challenges the technician encounters in order to make decisions based on that conversation.
Discuss Risk
As human beings, we unfortunately often avoid discussions of risk. Yet, we know that effective planning includes identifying potential risk. We want our clients to have insight into the remedy for which they are hiring us, and educating them about possible risks and solutions is part of that discussion.
We want to help you resolve your I.T. issues so your business keeps moving forward. We believe communication, planning, and discussion of risk is the best way to tackle any issue.
If you have questions regarding this or any other I.T. challenge, please contact us to discuss how LSG Solutions can serve your business.