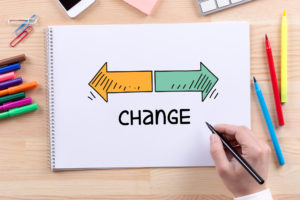 In a rapidly advancing business climate, organizational agility is key. Market disrupters appear at a breakneck speed and leave companies struggling to keep up.
Motivational speaker Tony Robbins says, "Change is inevitable. Progress is optional." In the realm of change management, truer words have never been spoken.
So, what is change management and how can it impact your business?
Planning the process
Change management is simply a process put in place to ensure business functions and relationships are maintained while implementing new procedures or systems.
It's planning a way to manage change, so it doesn't manage you.
For example, if your organization is implementing a new Customer Relationship Management (CRM) system, there will likely be effects felt across the entire business. From the marketing department to sales to customer service, many people need visibility on planning the implementation, carrying out the implementation, and then providing appropriate feedback to make necessary adjustments.
A change management process creates a roadmap to make sure these things happen at the right time.
Setting expectations
One of the biggest benefits of a change management strategy is creating appropriate expectations for all stakeholders. The communication surrounding expectations is crucial.
When implementing new systems or processes, everyone should understand what will and will not happen. Nothing derails an implementation plan faster than over-promising and then under-delivering results. The implications on morale and future support of new projects can be massive.
To maintain buy-in, everyone impacted by the new project or process needs to be included in preliminary discussions. Time should be spent asking stakeholders about their needs, expectations, and concerns.
After the feedback is gathered, time should be spent with the same team reviewing the feedback and outlining the implementation. Emphasis should be placed on appropriate expectations including timelines, deliverables, and communication plans.
Common missteps
During implementation of new projects or systems, one common misstep is failure to plan. There should be clear guidelines on the goals of the project, who owns what pieces of implementation, and how everyone can ensure effective communication.
Assuming these things will happen organically will derail the project. Without clear guidelines, inefficiencies become the norm as scope creep takes over. Teams are then left feeling confused and frustrated.
All of this can be avoided with some basic change management planning.
Change management may sound complicated, but the core principles are not. Remember, it's simply casting a vision for where you want to go, establishing goals to achieve the vision, and mapping out how the team will get there.
When done well, the process will increase your organization's agility, threshold to deal with market disruptions, and ability to grow relationships during change. In today's business, this is the winning combination that sets organizations ahead of their competitors.
No tags for this post.