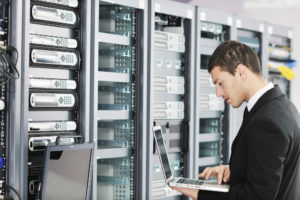 Platform as a Service (PaaS) is one of the latest in a line of cloud-based services that make it easier for businesses to operate without having to handle the upkeep of a network.
PaaS is a set of tools that allow developers to build applications without having to worry about the upkeep of owning infrastructure.
Here's an example of how we used PaaS to give a local company a robust application without requiring them to house (or pay for!) a single server.
A local example of the usefulness of PaaS
BC Clark came to LSG Solutions searching for a way to develop an application for their "Pray for Rain" promotion. While it's a big name in Oklahoma, BC Clark isn't a very large company and couldn't justify the time, expense and resources required to build an in-house infrastructure and hire a developer to maintain it and develop the application.
This was at a time when PaaS wasn't widely used. We found a hosting company that allowed us to make custom requests for resources to build the infrastructure, which remained hosted off-site and required no effort on the customer's part. Throughout the development and launch of the application, BC Clark didn't buy a single server or a single piece of other hardware related to the program.
If it's so good, why haven't most people heard about PaaS?
As has often been the case in Oklahoma, PaaS hasn't caught on as quickly locally as it has elsewhere in the country. In fact, a large percentage of the population likely has not heard of this or has heard of it but doesn't know what it is.
Nevertheless, we foresee a time when all application development will be done on a PaaS basis, because it's simply the most efficient way to do so for both the companies and the developers.
No tags for this post.